BASIC DESCRIPTION (RW): A stern-faced woman in profile on a stone throne decorated with a cherub and butterflies. Her crown is also butterflies, and her cape is sky blue with clouds. She holds a sword straight up in her right hand, and the hilt appears to rest on the arm of the throne. Her left hand is open and seemingly inviting. Something dangles from her left wrist--perhaps the severed ends of a previous bondage. Thunderheads build in the distance, but the sky above is clear, with a single bird.
FIRST THING THAT STRUCK ME: She seems like a hard-ass; much too serious as a result of too much responsibility. Or perhaps she simply takes her responsibilities seriously. Also, the yellow of her crown stands out among the more subtle blues and grays on the card.
UPRIGHT MEANINGS AND TRAITS: Liberator of the Mind. Intelligence, perception, discernment, concentration, attentiveness, clarity. Keen observer; a person of sharp insight, astute and persuasive, powerful and thorough, rational and objective. Can be subtle or cunning, but generally honest, up front, forthright, open, fair-minded, guileless, direct, candid. An intense individualist, independent, experienced, resilient, strong, courageous, capable, disciplined, witty, gracious and just. Widowhood, mourning, separation, privation, severity, sterility, acquaintance with sadness. "A woman touched by sadness over the loss of a loved one. She could be a widow or divorced, anyone who has suffered a loss and is left to fend for herself and those she loves." (Hansson)
ALSO: Power of careful analysis. The sword of spirit penetrating matter and informing it. (Gray) Cutting through old masks and roles. (Ziegler) Her movements will be graceful, and her ability in dancing and balancing exceptional. (Crowley) Joy in the creative process; pride in one's creations; making something from nothing; letting what you love grow in its own light; vigilance against threats to new or hard-won accomplishments. Delight in children or grandchildren; parenting skills; family pride. (Hoover)
REVERSED MEANINGS AND TRAITS: "Consuming fire: the flames of the martyrdom of Joan of Arc, Phaedra's misguided passion, Medea's jealousy, Lady MacBeth's ambition. Fire, if left to burn unchecked, can consume the soul." (Williams) Distinguished woman not to be trusted; double-dealing with her two-edged sword; snake in the nest. When opposed, she can be cruel, malicious, spiteful, vengeful, bitter, narrow-minded, bigoted, intolerant, maligning, critical, discouraging, demanding, deceitful, manipulative, sly, artificial, prudish. "A strong mind turned nasty, especially as a reaction to pain or pressure from unpleasant situations or people." (Pollack)
ALSO: Overemphasis on sorrow. Imagined slights. Nervous, neurotic behavior. "One who wraps themselves up in an exhausting whirlwind of activity, dancing, gymnastics, socializing, working, mindless fun--anything to suppress deep sadness. Fear of being overtaken by depression." (Hansson) A witch in league with the fiends of hell.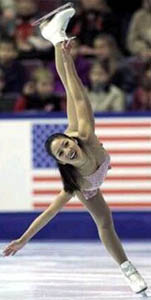 Michelle Kwan traits:
Gracious in defeat, modest in victory. Real and unpretencious. Grace, poise, elegance, beauty, class, artistry, balance, intelligence, perspective, integrity, self-confidence, technical prowess, perfection, power, passion, courage, determination, no fear.
BIBLICAL: "For the affair of the queen will go out to all the wives so that they will despise their owners in their own eyes, when they say, 'King Ahasuerus himself said to bring in Vashti the queen before him, and she did not come in.'"--Esther 1:17
"As regards Athaliah the mother of Ahaziah, she saw that her son had died. So she rose up and destroyed all the royal offspring of the house of Judah."--2 Chronicles 22:10
See also Jezebel--1 Kings 21, 2 Kings 9:30-37
INSECT: praying mantis
LOCATION: Sweden?
MUSIC: "Woman of the World" by Aerosmith
FILM: "First Wives Club"?
BOOK: Mists of Avalon--Morgaine
PUBLIC PEOPLE: Ayn Rand
Michelle Kwan: The most decorated female figure skater of the modern era, with more 6.0 marks in competition than anyone else, seven U.S. titles and five world championships, as well as Olympic silver and bronze. Her athletic celebrity is unique in that it has transcended the sport in which she has dominated. She has been named one of the "50 Most Beautiful People in the World" by People magazine and signed an exclusive deal with Electronic Arts (EA Sports) to create the first interactive figure skating video game (Michelle Kwan Figure Skating).
"I want kids to realize their dreams and make it happen. They have to believe in themselves and realize that it does take time, but they can do anything if they set their mind to it."--Michelle Kwan
Jeanne d'Arc: Described as "as a singularly pious child, grave beyond her years, who often knelt in the church absorbed in prayer." Heard "voices" which gave supernatural guidance. Wore male attire to protect her "modesty." "She always slept fully dressed, and all those who were intimate with her declared that there was something about her which repressed every unseemly thought in her regard."
"Instead of the sword the king offered her, she begged that search might be made for an ancient sword buried, as she averred, behind the altar in the chapel of Ste-Catherine-de-Fierbois. It was found in the very spot her voices indicated."
Burned by the English as a relapsed heretic for wearing male attire. Faithful, simple, fearless, honest and sensible.
All quotes from The Catholic Encyclopedia.
OCCUPATIONS: seamstress, consultant, blackmailer, secretary. If extroverted, an administrator, an organizer. (Williams) Journalism, media, technology, science. (Matthews)
PEOPLE OR SITUATIONS IN MY LIFE: fishing vacation
PERSONAL THOUGHTS: I've always thought of this card as "woman without a man." On the positive side--independent; but perhaps at times unrestrained in her "ambition," whatever that may be. (For example, I would say that Victoria's "ambition" was to mourn.)
The Queen of Swords doesn't necessarily let the "right" or "normal" thing stand in the way of her idea, obsession or whatever. Mother Theresa would be a good example. She didn't have what we would call a normal (i.e., worldy) life, but she acted on her ideas/principles unconstrained.
On the downside would be the prominent business woman who helped my brother's community center/tea house, only to sabotage him "for the good of the neighborhood" and get the property for herself (her ambition).
Or me, when my husband is on his fishing vacation, and I work with/study Tarot the whole time, and don't get anything *else* done. = P
PERSON IN MY LIFE: Lyn Romano--an intelligent, persuasive, direct, independent, strong, resilient widow, with an accent on sorrow and loss. "Rosebush" on the 'net but by her own admission a thorn in the side of airline authorities and manufacturers. Since her husband died in the crash of SR111, she has devoted much time, energy and resources to airline safety. International Aviation Safety Association
QUOTES FROM OTHER SOURCES: A woman is like a tea bag--only in hot water do you realize how strong she is.--Nancy Reagan