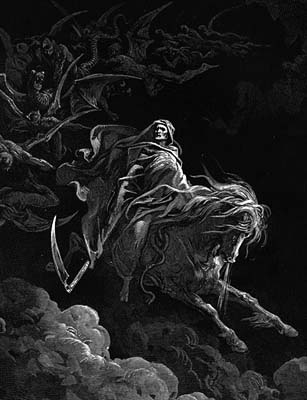 Behold a pale horse
6:8 And I looked, and behold a pale horse: and his name that sat on him was Death, and Hell followed with him. And power was given unto them over the fourth part of the earth, to kill with sword, and with hunger, and with death, and with the beasts of the earth.
6:9 And when he had opened the fifth seal, I saw under the altar the souls of them that were slain for the word of God, and for the testimony which they held:
6:10 And they cried with a loud voice, saying, How long, O Lord, holy and true, dost thou not judge and avenge our blood on them that dwell on the earth?
Book of Revelation
---
NOTES:

God's will:

Maybe the sepulchre with the stone rolled away . . . gone. Or Saul/Paul, dying to his old life and "putting on the new personality." I also like the "between" stage implied with the Pieta.
---